Corner TV Units Media Cabinets & Stands
MEDIA UNITS TV STANDS & CABINETS
Having bought your next-gen TV it seems only natural to extend the modern look when shopping for a new TV stand. Whether you choose a compact open shelf or closed cabinet, trendy curved glass unit, or a Cantilever TV stand you know the style will depend very much on the shape of the room.
Modern Corner TV Units & Media Cabinets
Stylish TV furniture and AV stands come in various sizes and it's essential you get the one that is right for your TV and room layout. Buying a Media entertainment unit with cable management is a perfect way for housing the various Hi-Fi and AV equipment keeping everything neat and tidy.
---
---
Modern TV Units under £100Gloss White & Black TV Media Stands Sale
Light and Dark Wood Wide TV Cabinets with Drawers
Corner TV Units
To maximise your living area place your TV and corner unit in the best viewing position for all to enjoy. Creating a compact ordered space doesn't have to mean compromising on style. Elegantly designed media units house more than just the screen they come with drawers and shelves for DVD players, set-top boxes, extra remotes and whatever else you need to keep your corner looking tidy.
---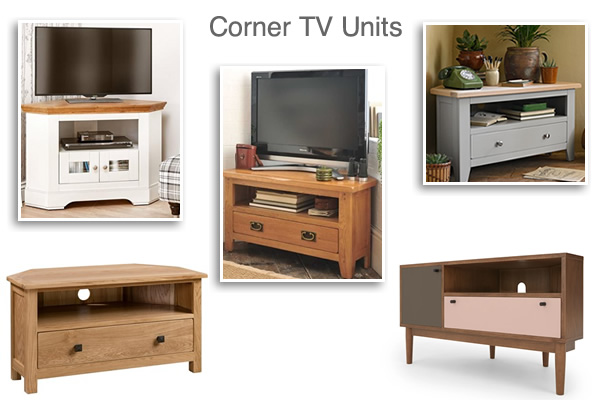 ---
Many feature openings at the back for wires and cables. Modern and traditional corner TV units come in light and dark wood, black and clear glass, white and French-style designs. In addition to wood and glass cabinets, toughening glass TV stands come with built-in TV and soundbar mounts offering another space-saving option.
---
Corner TV Units
Corner TV Units
---
Modern Media Units and TV Mounts
For those that prefer to steer away from wall mounting, there are plenty of media cabinets, TV stands and sideboards for your TV and audio equipment. Today's modern TV stands like the Greenapple Niche stand with its floating shelf and new curvier designs are not only functional but demand attention.
---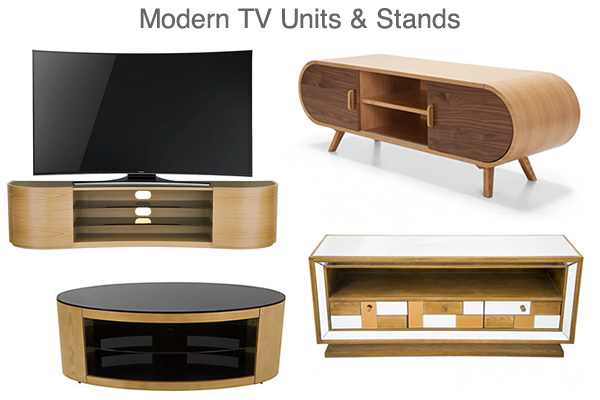 ---
Curved TV Stands
Rounded AV furniture is perfect for curved television screens as well as flat screens and is ideal in a corner or open space. TV mounting has been made simple too with cantilever and TV stands with integrated TV and soundbar mounts. New designs fit neatly against the wall and come with a central column to disguise any connecting cables. These contemporary TV units suspend the screen as if on the wall making a space-saving alternative to conventional light and dark wood TV stands.
---
Modern & Contemporary TV Stands
Modern TV Units
---
Light Wood TV Media Units
You can easily bring the luxe style in your home with quality wooden furniture and cabinets. Today's collection of media units include various designs to fit all shapes of rooms with a choice of light and dark wood. Give your living space a fresh new look with a light wood media cabinet.
---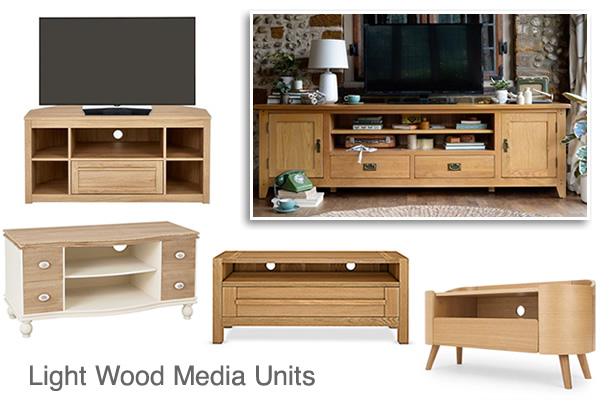 ---
Keep it simple with light wood accents and clean lines around the room for a spacious feel. The elegant round Tom Schneider Curvature 1500 TV stand at John Lewis is an ultra-modern look and ideal for the new curved television screens up to 65". The specially designed curved edge TV stands fit seamlessly into a corner and are the perfect fit for a curved TV.
---
TV Stands Under £100
View All Media Cabinets
Light & Dark Wood, Black/Grey/Glass, Oak/White
Wide, Low & Corner TV Units
Light Wood Media Units
Light Wood TV Units
---
Dark Wood TV Cabinets
Find new style dark wood television stands, media units and corner TV cabinets at a range of prices. A collection of dark wooden corner TV units add character to a room and solve the problem of awkward angles making the most of your living space.
---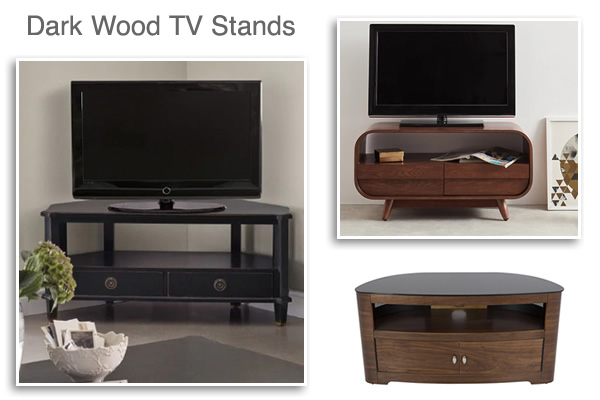 ---
Warmth radiates from the rich tones of dark wood and opens the way for matching pieces to be placed around the room. Designs include dark wood veneer and black glass TV stands in chocolate walnut, open shelf double door TV cabinets in stained oak and corner TV units with back cut out, 2 drawers and shelf in Sheesham hardwood. Laura Ashley TV furniture includes large media units with 3 drawers, TV/DVD units in chestnut brown and black hand-painted solid wood corner cabinets.
---
Dark Wood TV Cabinets
Dark Wood TV Units
---
French Style TV Cabinets
Discover beautiful hand-carved antique French TV cabinets inspired from the 18th century in mahogany, ivory and oak. Entertainment units crafted from a mixture of alder and cherry veneers come with a touch of French-inspired curves for an elegant finish. Simple lines gracefully designed in rich wood tones will add warmth and charm to any space.
---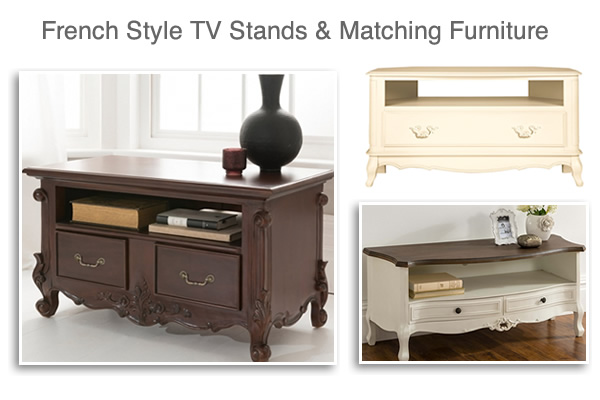 ---
Many wooden Antique French style TV stands are part of a furniture range with matching pieces to complete the look. Classic French designs create a wonderful image of the past and a unique focal point in your living room. Shabby Chic media and TV units add further vintage appeal with their distressed effect and contrasting drawers and table top.
---
French Style TV Cabinets
French Style Furniture
---
Black Glass and Clear Glass TV Stands
Here at Corner TV Units, we have compiled a comprehensive collection of TV media units and home entertainment centres in a variety of finishes and styles. You'll find glass television stands, modern flat packed and fully assembled black glass TV stands with shelves for all your home cinema equipment.
---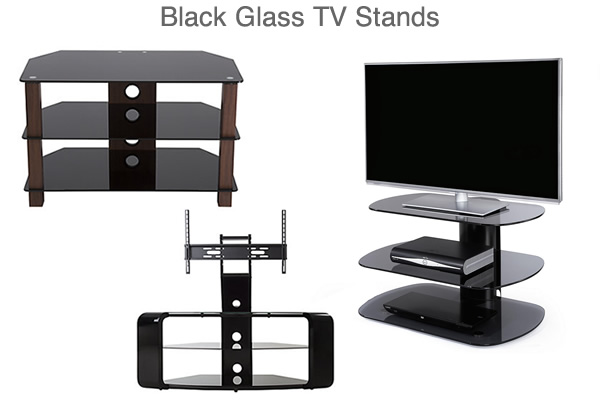 ---
Clear Glass TV stands have been around since the earliest flatscreen TVs and remain a favourite choice for a modern home. Affordable TV stands can be found in oval, curved, corner shapes and extra-wide with or without shelving.
---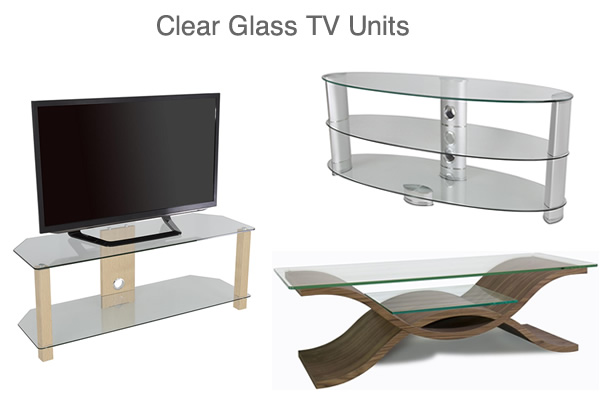 ---
Luxury glass TV units at a higher price offer show-stopping appeal with stunning finishes. AVF, Alphason, Off the Wall, BDI, Techlink TV Units demonstrate the high-quality build and design features coming on the market today.
---
Black Glass Media Units
Black TV Units
---
Clear Glass TV Stands
Glass TV Units
---
White Furniture & TV Media Units
Finding the right TV stand to accommodate the size of your Television is one of the things to consider but shapes and colour are equally important. Here you will find a collection of high gloss, low, tall, wide and curved white media units in traditional and modern styles with cable tidy and storage space solutions.
---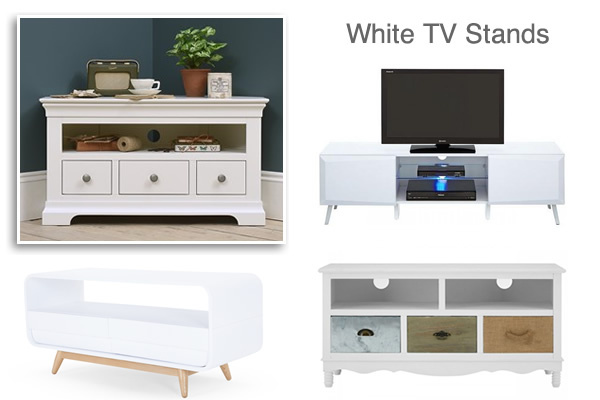 ---
Create a stunning focal point with the BDI white TV stand for TVs up to 82", a unique home theatre cabinet with a polished gloss finish and tinted glass doors. Whether it's diamond white gloss, ivory, cream or a combination of painted white with oak or pine white TV stands offer a stylish and contemporary housing solution for the latest AV equipment.
---
White TV Furniture & Media Units
White Furniture
---
TV Units with Drawers
Unless you prefer to have your new TV hanging from the wall the next best thing is a wood TV cabinet. Traditional media furniture with drawers, doors and shelves offer a practical storage solution and look great too. AV furniture is available in various forms and can combine a mix of wooden and glass designs.
---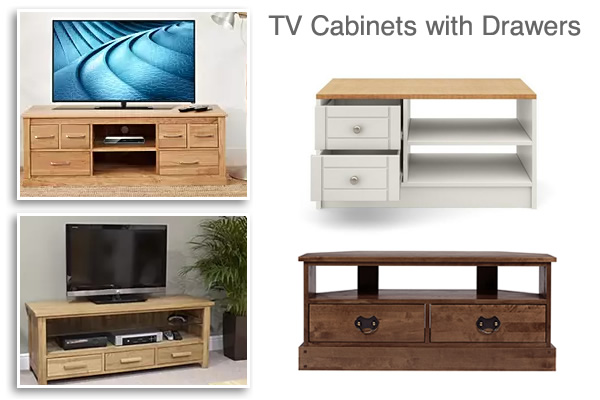 ---
You will find clear and black glass, light and dark wood plus contemporary styles. But classically designed corner TV stands and entertainment units work well for many. These can incorporate plenty of storage space with handy drawers. Choose your style of television cabinet with drawers and shelves from a selection of finishes including solid oak, pine, wood veneer and glass, black oak, white, mahogany and walnut.
---
Media Units with Drawers