Off the Wall Curved TV Units Fits TVs up to 55"
The simplistic lines of the Off the Wall Arc metal glass and curved TV stand is an ideal accompaniment for a curved television. Its modest appearance doesn't dominate the room allowing the sleek curvature of the latest screens to take centre stage. Features include a cantilever design in silver with an open front for maximum use of space.
Corner & Curved TV Units >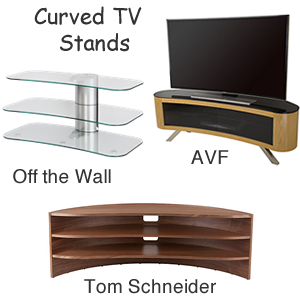 TV Stands Under £100
View All Media Cabinets
Light & Dark Wood, Black/Grey/Glass, Oak/White
Wide, Low & Corner TV Units
No need to worry about the clutter of cables either with a smart cable management system neatly hiding all the wires out of the way in the central column. A four-socket extension cable is supplied which fits inside the column. Other details include an 8mm safety glass top shelf that fits TV sizes up to 55" with overhang.
Modern Curved TV Stands
AVF Bay Curved TV Cabinets for TVs up to 70"
Concave TV furniture such as the AVF Bay curved TV cabinet adds a touch of style to your living space. Available in real wood veneer in walnut or oak and a high gloss black finish. These modern TV units work perfectly with curve style TVs as well as flat-screen and can be placed in any position. Best of all the AVF Bay stand has three height positions so you can find the best viewing height. Other details include several storage options and remote-friendly smoked glass doors. A slotted base allows for adequate airflow and cooling of AV equipment.
Tom Schneider CurvED TV Stands For TVs up to 65"
The Tom Schneider Curvature TV stands to offer a more aesthetic blend with modern curved TVs and fits perfectly in a corner or flat against a wall. Handmade from high-quality veneer in light wood and dark wood to complement existing wooden furniture pieces in your home. The fluid lines, natural grain patterns and resin marking make each television stand a unique work of art. Its soft curved finish is child-friendly too with no sharp edges. Features include a top panel and two fixed shelves for housing AV devices such as a soundbar or games console. The Tom Schneider Curvature 1500 TV stand is suitable for TV's up to 65"